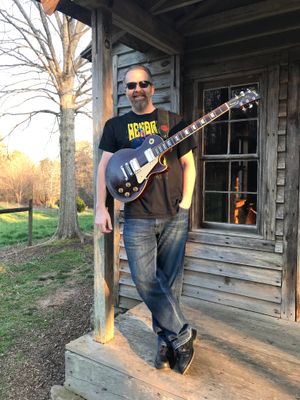 Steve's Resume & Bio
QUALIFICATIONS 
25 years of professional work experience as an electric and acoustic guitarist performer, producer, and educator. Steve is proficient with versatile playing styles in Jazz, Rock, Blues, Classical, Soul, Gospel, and Pop. 
EDUCATION: 
University of West London, London College of Music, London, UK 
MMus Performance, 2016 
Guitar Studies (jazz concentration) 
International Ambassador Scholar; Honors Graduate 
thesis: Tai Chi for Musicians-Health 
University of North Texas, Denton, TX 
Jazz Studies Guitar credits, 1998-1999 
CONTACT:  wrighttaichi@gmail.com
About the Instructor - Steve Wright
Mr.Steve Wright is originally from the Richmond Virginia area. His early childhood musical influences led him to choose the Guitar at age 11. He was heavily influenced by his two Uncles who played in bands during the 1960s. 
After graduating high school, Steve moved to Atlanta, Georgia—for a more diverse musical experience. There— he formally studied Jazz, Rock, and Classical Guitar styles with Sid Wolfe  (Atlanta Institute of Music 1996-1997) and earned a Diploma in Guitar Performance graduating with Honors. Steve went on to continue Jazz Studies at The University of North Texas (1998-2000).  Mr.Wright later traveled abroad to earn a Masters of Music (MMUS) from The London College of Music, University of West London (2016) given International Ambassador Scholar, and graduated with Honors as well!  Additionally, Steve continued his education in England and completed one year of doctoral studies, Ph.D. Music Performance & Health (Guitar), at the University of Nottingham with research, focused on Tai Chi and Qigong for Musicians (interdisciplinary methods of efficient practice and performance, practices for health and well-being on and off the performance stage). Mr. Wright has 25 years of professional working experience as an electric and acoustic guitarist in many areas of the music business including Studio- Recording (as both a player and producer), Songwriter, Musical Director, Touring Side-Man, and Teacher/Mentor. Steve has 18 years of experience as a Guitar Instructor teaching private and group music lessons and masterclasses to students ages 8yrs old to adulthood; *Beginner to Advanced skill levels. 
*Notable events and appearances: 
Cee-Lo Green (lead Guitarist for National Tour), Dottie Peoples (lead Guitarist for National Tour), and U.S. Embassy-Sponsored featured guest artist performance with his band Days Ahead at the annual Intwasa Arts Fest (Bulawayo, Zimbabwe, Africa), Capital Jazz SuperCruise (featured performer as Days Ahead), D.C. Capital Jazz Festival (featured performer as Days Ahead), London's 606 Club (featured performer as Days Ahead), Atlanta Jazz Festival (featured performer as Days Ahead), Mobile Jazz Festival (featured performer as Days Ahead), featured lead Guitarist in "The Three Stooges" movie (20th Century Fox), BET Jazz (featured performer as Days Ahead), TBN "Listen up with Charles Barkley" (lead Guitarist with weekly house band), and WGN "Good Morning Chicago" (lead Guitarist). Original music projects-  www.daysaheadmusic.com